Uwell CALIBURN AK2 Pod System 15W Features:
Dimensions – 67.9mm by 43.5mm by 11.8mm

Integrated 520mAh Rechargeable Battery

Max. Wattage Output: 15W

Aluminum-Alloy Chassis Construction

Draw-Activated Firing Mechanism

Zinc-Alloy Chassis Construction

Pro-FOCS Technology

E-Liquid Viewing Window

Lanyard Attachment Point

LED Battery Indicator Light

2mL Pod Capacity

Top Fill System – Mouthpiece Cover

Integrated 0.9ohm UN2 Meshed-H Coil

Magnetic Pod Connection

Short-Circuit Protection

Low Voltage Protection

8S Overtime Protection

Open Circuit Protection

Low Power Protection

Type-C USB Port


Available in Classic Black, Neon Orange, Turquoise Blue,
Uwell Caliburn AK2 Pod System 15W Price is 110.00 AED only in Dubai UAE

All about Uwell Caliburn AK2 Pod System 15W in Dubai UAE
Introducing the UWELL CALIBURN AK2 15W Pod System – Your Ultimate Vaping Companion!
Are you looking for a sleek and compact pod system that offers both style and performance? Look no further, as the UWELL CALIBURN AK2 is here to revolutionize your vaping experience. This stunning device boasts an array of cutting-edge features that make it the perfect choice for both newcomers and seasoned vapers.
Sleek and Portable Design: The UWELL CALIBURN AK2 Pod System features a meticulously designed aluminum-alloy chassis that is both durable and stylish. With dimensions measuring just 67.9mm by 43.5mm by 11.8mm, it easily slips into your pocket or purse, ensuring you have your vaping companion wherever you go.
Power-Packed Performance: Powered by an integrated 520mAh rechargeable battery, the CALIBURN AK2 offers a maximum wattage output of 15W, ensuring a satisfying and consistent vape every time. Say goodbye to the hassle of frequent charging and hello to uninterrupted vaping pleasure.
Effortless Operation: With a draw-activated firing mechanism, using the CALIBURN AK2 is as easy as taking a breath. Simply inhale, and the device springs to life, delivering an exceptional vaping experience.
Pro-FOCS Technology: Experience pure and intense flavor with the Pro-FOCS technology that the CALIBURN AK2 incorporates. You'll enjoy every note and nuance of your favorite e-liquids, making every puff an adventure for your taste buds.
E-Liquid Viewing Window: No more guessing when it's time to refill! The built-in E-Liquid viewing window allows you to monitor your e-liquid levels at a glance, ensuring you're never caught off guard.
Lanyard Attachment Point: For those on the move, the CALIBURN AK2 provides a lanyard attachment point, making it incredibly convenient to keep your device close and secure.
Battery Indicator Light: Stay informed about your battery status with the integrated LED indicator light. You'll know precisely when it's time to recharge, so you're never caught with a dead battery.
Impressive Pod Capacity: The 2mL pod capacity ensures you have enough e-liquid to enjoy your vaping sessions without constant refilling. Plus, the top-fill system with a convenient mouthpiece cover makes refills a breeze.
UN2 Meshed-H Coil: The CALIBURN AK2 Pod System comes with an integrated 0.9ohm UN2 Meshed-H coil for an excellent balance of flavor and vapor production. Get ready to be immersed in rich, satisfying clouds.
Safety Features: UWELL values your safety, which is why the CALIBURN AK2 includes various protection mechanisms, such as short-circuit protection, low voltage protection, 8-second overtime protection, open circuit protection, and low power protection.
Quick and Convenient Charging: Equipped with a Type-C USB port, recharging your device is fast and efficient. No more waiting around for hours; you'll be back to vaping in no time.
Express Yourself with Style: The CALIBURN AK2 comes in three stylish colors: Classic Black, Neon Orange, and Turquoise Blue, so you can choose the one that complements your personal style.
What's Included:
Inside the UWELL CALIBURN AK2 Pod System kit, you'll find everything you need to get started:
1 x Uwell Caliburn AK2 Pod System
2 x 0.9ohm UN2 Meshed-H Pods
1 x User Manual
1 x Lanyard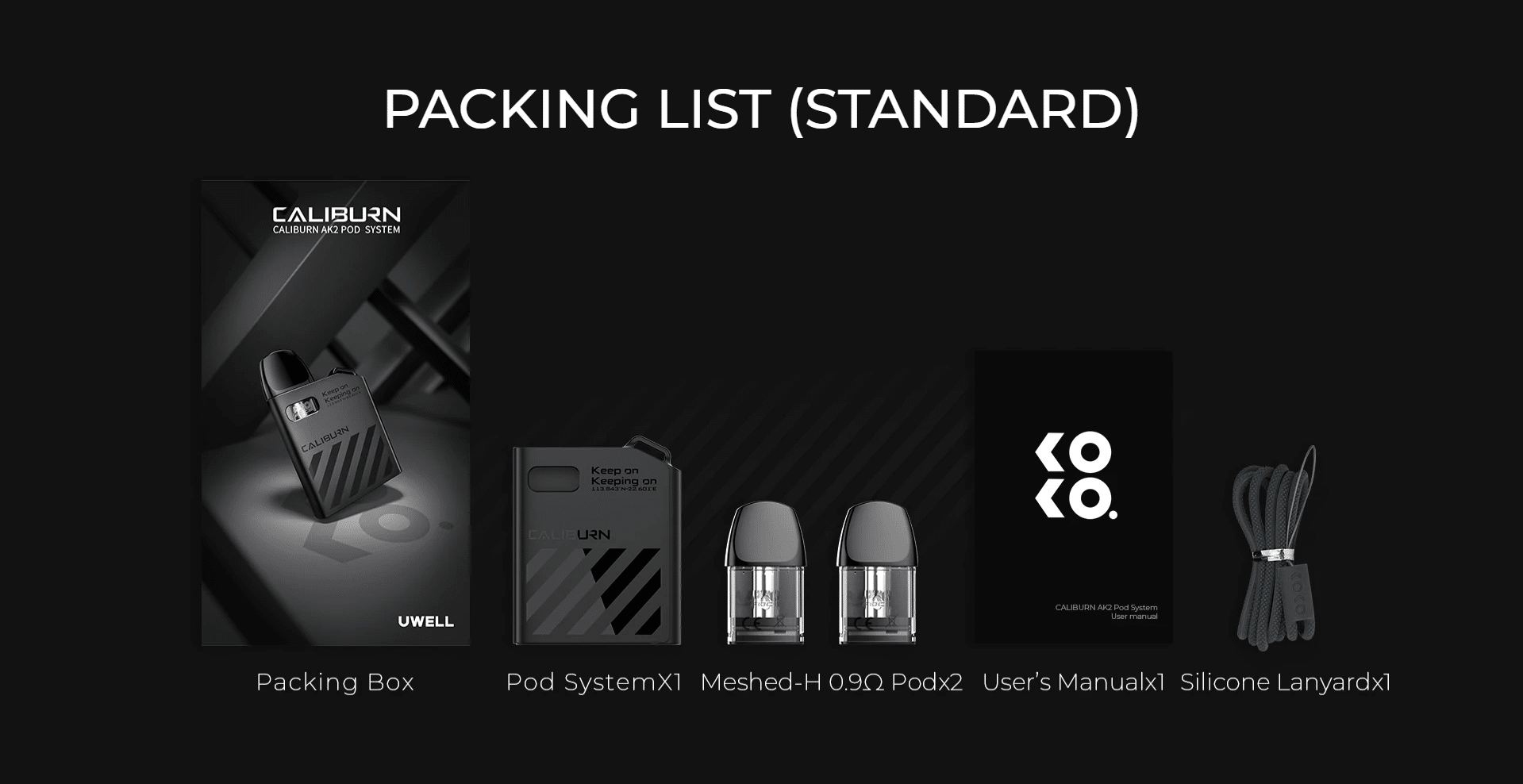 In summary, the UWELL CALIBURN AK2 15W Pod System offers a perfect balance of style, performance, and convenience. Whether you're a novice or a vaping enthusiast, this device will satisfy your cravings and elevate your vaping experience. Grab yours today and discover a new world of flavor and vapor with UWELL's latest innovation.