The KK Energy Box 10000 Puffs Disposable Vape is a revolutionary product in the world of disposable vaping devices. With an incredible 10000 puff capacity, adjustable airflow, and a rechargeable battery, this device provides an unparalleled vaping experience for users. In this article, we will explore the benefits of the KK Energy Box and why it is an ideal choice for vapers who demand quality, convenience, and longevity.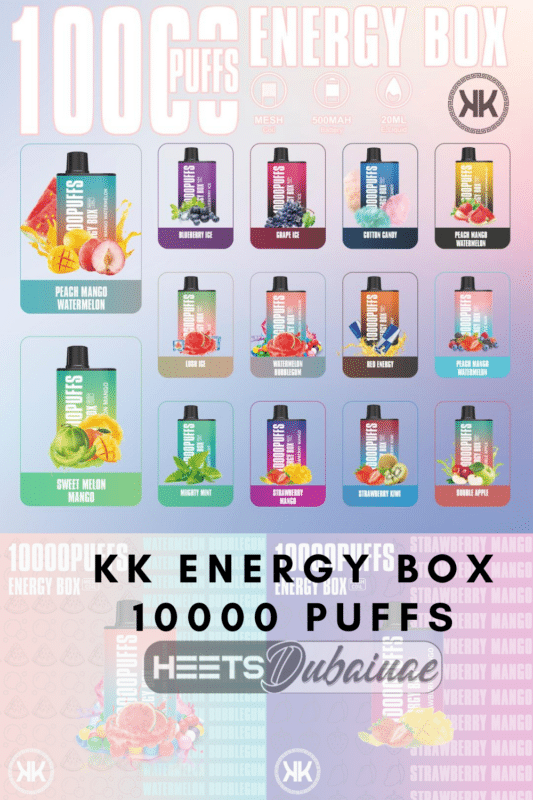 Long-lasting Vaping Experience
One of the most significant benefits of the KK Energy Box is its 10000 puff capacity. Unlike other disposable vaping devices that offer a limited number of puffs, the KK Energy Box is designed to last for days on end. This means that vapers can enjoy a consistent and satisfying vaping experience without having to worry about running out of juice or battery power.
The 15ml e-juice capacity also ensures that users can enjoy their favorite flavors for an extended period. Whether you prefer fruity, menthol, or tobacco flavors, the KK Energy Box has you covered. The device is also available in various nicotine strengths, including 5%, making it suitable for both casual and heavy vapers.
Adjustable Airflow for Customization
The KK Energy Box is equipped with an adjustable airflow feature that allows users to customize their draw. This means that vapers can choose between a tight or loose draw depending on their preferences. The adjustable airflow also ensures that the device produces smooth vapor, making for a more enjoyable vaping experience.
Rechargeable Battery for Convenience
The KK Energy Box comes with a 650mAh rechargeable battery that can be easily charged via the Type C charging port. This means that users do not have to worry about constantly replacing batteries or disposing of the device after the battery has died. The rechargeable battery also ensures that the device maintains a consistent power output, resulting in a more stable and enjoyable vaping experience.
Easy to Use and Dispose of
The KK Energy Box is designed to be user-friendly, making it an ideal choice for both novice and experienced vapers. The device does not require any setup or maintenance, making it perfect for those who are always on the go. Once the device has been fully used, users can dispose of it safely and conveniently.
Environmentally Friendly
Disposable vaping devices are often criticized for their impact on the environment. However, the KK Energy Box is designed to be more environmentally friendly than other disposable vaping devices. The device is made from high-quality materials and is built to last, reducing the need for frequent replacements. Additionally, the rechargeable battery means that users can reduce their carbon footprint by using the device for a longer period.
Final Thoughts
Overall, the KK Energy Box 10000 Puffs Disposable Vape is a game-changer in the world of disposable vaping devices. With its long-lasting puff capacity, adjustable airflow, and rechargeable battery, the device provides a high-quality and enjoyable vaping experience for users. The device is also environmentally friendly and user-friendly, making it an ideal choice for vapers who demand convenience, quality, and longevity. If you're in the market for a new disposable vaping device, be sure to check out the KK Energy Box